Is this guide user friendly?
| | | | |
| --- | --- | --- | --- |
| Yes | | 63% | [ 333 ] |
| No, needs improvement | | 13% | [ 70 ] |
| Don't really care | | 4% | [ 22 ] |
| oohhh pickles x3 (Whats that got to do with this? o.O) | | 18% | [ 96 ] |
Total Votes : 521
Thu May 09, 2013 9:22 pm
Generally I'm against that, but since there's very little people actually reporting prices it's probably the best option :3
Should probably mention it somewhere on the front too that prices are going to be estimated for some of them.

Got a transaction to report!

Bought Purple Ribbon Hat on CM for 1.5k.
Fri May 10, 2013 11:18 pm
I prefer if I didn't have to as well, but I'm using what I can for now to do what I can for the prices. It will make me nutty if I leave it blank any longer. @_@' I'm hoping that will be good enough. It will have to be, until I get more resources to work with.

I put the information in the announcement section in red, thanks.

_________________
Borrowed by lnspire
Mon May 13, 2013 5:11 pm
I think you are doing a good job. I agree with what you did with respect to prices.
_________________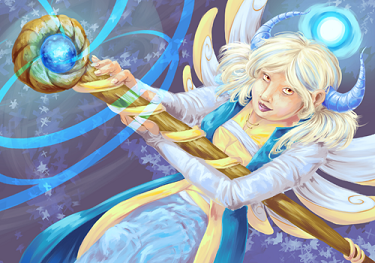 Thu Jun 20, 2013 8:54 pm
Agreed, I think that you've done a great job with the price guide so far, considering how few resources you have :]

Here's some reports of what I've bought on the BM:
Parishioner Fur Boots - 1k
Parishioner Padded Leggings - 3k
Parishioner Padded Tunic - 5k
Parishioner Fur Cloak - 4k
Thu Jun 27, 2013 3:02 am
I was wondering where the white druid cloak was, and the elemental armour item prices are, unless i didnt see them on the first page haha xD
Thu Jun 27, 2013 10:56 am
The Druid White Cloaks are listed, but the image for the Druid Red Cloaks (which were Smuggler's Shop items, and are in his Price List) has been shown in error above the listing. Perhaps this is why you missed it, Sir StarryEyed?
Quote:
Druid White Full Cloak - 60,000-90,000
Druid White Half Cloak - 25,000-50,000


Some of the items from the Orbs were at one time sold in the Smuggler's Shop, so that

may

be why they aren't listed here (possibly -- just a guess on my part). They appear on the Citizen's Marketplace from time to time, and can be found by searching for "Level".
_________________

Wed Jul 03, 2013 2:00 am
Bought

Woodland Tunic

from cm for 1.5k!
Sat Aug 03, 2013 8:56 am
Got a big transaction report for you!

Sold:

Phantasmal Skull Cap: 2k
Bleached Skull Cap: 2k
Spithra Waistcoat: 10k
Spithra Limbs: 15k
Spithra Ascent: 15k
Whispering Wings: 15k
The Joker: 200k
Opal Dinky Horns: 75k
Possessed Zombie Eyes: 15k
Possessed Ghost Eyes: 15k
Possessed Ghoul Eyes: 15k
Liontaur: 3k
Bone Mask: 5k
Opal Phoenix Wings: 75k
Ghostly Shirt: 5k
Ghostly Chains Right: 5k
Ghostly Chains Left: 5k
Ghostly Double Chains: 7.5k
Ghostly Baron/ess Collar: 20k
Vuhaer Pants: 1k
Vuhaer Boots: 1k
Vuhear Cowl: 1k
Vuhaer Evergreen Anorak for 2000 Zg
Vuhaer Golden Tunic for 2000 Zg
Vuhaer Evergreen Tunic for 2000 Zg
Vuhaer Golden Anorak for 2000 Zg
Spooked Skirt for 2500 Zg
Spooked Bottoms for 2500 Zg
Crystal Silver Bauble for 3000 Zg
Possessive Jack for 4000 Zg
Jingle Bells for 4000 Zg
Yoricks Hairpin for 1000 Zg
Vuhaer Goldtone Hairflower for 1000 Zg
Vuhaer Green Hairflower for 1000 Zg
Pumpkin Top Hat for 5000 Zg
Dusting of Snow for 8000 Zg
Spithra Boots for 10000 Zg
Spithra Leggings for 10000 Zg
Spithra Dark Crown for 10000 Zg
Lightstar Boots for 2000 Zg
Emerald Diadem for 5000 Zg
Fur Wrap for 2000 Zg
Fairytale Gem Belt for 2000 Zg
Ghostly Baron/ess Belt for 5000 Zg
Shamrock Buckle Shoes for 1000 Zg
Charmed Belt Pouch for 5000 Zg
Aqua Flower Wreath for 5000 Zg
Golden Feather Diadem for 2000 Zg
War Plate Greaves for 70000 Zg
Howling Spirit Mask for 2000 Zg
Sun Sep 01, 2013 7:09 pm
Thank you for pointing that out, Lacly Nema! These will be fixecl

shortly

.
If any more of the items I've put up have also cleciclecl to mix ancl max please let me know!

How clicl those sneaky leveling items go missing from the guicle? <___<' I'm sure they were there before *hercls them back with a shepharcl's cane in hancl*

As it has been mentionecl, I'cl just like to remincl users who have not been here fully that some items may have recolours ancl pieces available from the Smugglers, clonation shop ancl as event items.

Thank you for the reports, Lacly Amurita ancl Lacly Phoenix! ♥ Once I finish putting up all the items they will be incluclecl

_________________
I want to spend the rest of my life ALIVE!

♥
Sat Sep 14, 2013 5:27 pm
I got some more prices for you:

Bought in CM:
Weald Shoes = 4000 Zg
Weald Wristlettes = 3000 Zg

Thank you for your continual work on the guide <3

And btw, I'm loving your avi! The neon blue colour with the rest of the blues gives it this really cool glowing effect.



Edit

:

Sept 9: Bought Mire Pendant = 1000 Zg
Sept 14: Bought Bloom = 5000 zg
Mon Oct 07, 2013 2:53 am
Thanks again for the prices, Lady Amurita


Does any one know when the "Bloom" and "Hare" items came out? I've put them under September for now as Log in Items.
_________________
I want to spend the rest of my life ALIVE!

♥
Mon Oct 07, 2013 3:30 am


My dates are buy whet I have posted over to TurtleSensei when I let her know that I have gathered home drops for her,

August 10 - Mud blobs

blue bloom - September 10 I posted the blue bloom on my head over to facebook, which should be right around the time it came out.

Hare & Mouse: September 18

pirate bottle: September 19

(1/? posts for the day)

_________________
Pro Lurker
Tue Oct 08, 2013 3:35 am
I don't remember when they came out either, but I think the dates Keres have are probably right. I know for the hare and mouse at least,they came out sometime around the day before 'talk like a pirate day' and the bottle came out the day of 'talk like a pirate day'.

In other news, got some more transactions for you:
Bought

Reinforced Tower Shield

and

Purple Flamed Staff

for 3k each.
Tue Oct 08, 2013 5:02 am
Got some prices for the guide...


Sold 1 x Fishing Trident for 5000 Zg - Sun Oct 06, 2013 2:01 pm
Sold 1 x Edingtol Stones for 10000 Zg - Mon Sep 23, 2013 3:12 am
Sold 1 x Gaidhlig Shoes for 5000 Zg - Sat Sep 21, 2013 8:10 pm
Sold 1 x Gold Fish for 2500 Zg - Sat Sep 21, 2013 12:32 am
Sold 1 x School of Fish for 10000 Zg - Sat Sep 21, 2013 12:32 am
Sold 1 x Pearl Diver Tattoo for 5000 Zg - Fri Sep 20, 2013 12:54 pm
Sold 1 x Pearl Diver Belt for 5000 Zg - Fri Sep 20, 2013 12:54 pm
Sold 1 x Poissonier Shoes for 5000 Zg - Fri Sep 20, 2013 12:54 pm
Sold 1 x Fishmonger Leggings for 5000 Zg - Fri Sep 20, 2013 12:54 pm
Sold 1 x Poissonier Apron for 5000 Zg - Thu Sep 19, 2013 8:37 pm
Sold 1 x Fishmonger Apron for 5000 Zg - Thu Sep 19, 2013 8:37 pm
Sold 1 x Pearl Diver Top for 5000 Zg - Thu Sep 19, 2013 8:33 pm
Sold 1 x Fishmonger Leggings for 5000 Zg - Thu Sep 19, 2013 8:33 pm
Sold 1 x Poissonier Shirt for 5000 Zg - Thu Sep 19, 2013 8:33 pm
Sold 1 x Fishmonger Shoes for 5000 Zg - Thu Sep 19, 2013 8:32 pm
Sold 1 x Fishmonger Shirt for 5000 Zg - Thu Sep 19, 2013 8:32 pm
Sold 1 x Fishmonger Coat for 5000 Zg - Thu Sep 19, 2013 8:32 pm
Sold 1 x Rainbow Fish Halo for 10000 Zg - Thu Sep 19, 2013 11:45 am
Sold 1 x Pearl Diver Pants for 5000 Zg - Thu Sep 19, 2013 11:45 am
Sold 1 x Pearl Diver Scarf for 5000 Zg - Thu Sep 19, 2013 11:44 am
Sold 1 x Watery Eyes for 5000 Zg - Thu Sep 19, 2013 11:44 am

_________________

Thu Oct 17, 2013 7:19 am
October 16, 2013:
I traded Silver Regal Cloak (40k-60k) for a Justice Cloak (unknown).
I did so to establish some kind of value, and at the same time help another citizen trade up an item.
_________________




You cannot post new topics in this forum
You cannot reply to topics in this forum
You cannot edit your posts in this forum
You cannot delete your posts in this forum
You cannot vote in polls in this forum


Terms of Service