~~Welcome January & 2020!~~
| | | | |
| --- | --- | --- | --- |
| Oh! <3 Love the Llamacorn! | | 25% | [ 3 ] |
| <3 @ the Armored Llamacorn <3 | | 8% | [ 1 ] |
| Capes??!! <3 <3 *Pretty colors!* | | 0% | [ 0 ] |
| <3 <3 all the llamacorn <3 <3 | | 16% | [ 2 ] |
| Yoricks Holiday <3 *Niiice!!* | | 0% | [ 0 ] |
| -I love everything! Great way to start the year!- | | 33% | [ 4 ] |
| **Happy New Year!** | | 16% | [ 2 ] |
Total Votes : 12
Wed Jan 01, 2020 5:05 pm
...................

It's 2020!!

...................


Happy New Year, everyone!

The Zantarni Staff and I would like to wish everyone a wonderful, happy, healthy, healing, and productive New Year to all of you!

To start off this new month, this new year,

this new decade

we have a very colorful, creative, and fun assortment of items for you guys to play with!



Introducing, the first DIs of the the new decade...






Llamacorn


Llamacorn White Slippers
Surrounded by Llamacorn
Black Llamcorn Hat
Llamacorn White Hat
Llamacorn Black Slippers
Llamacorn Black (pet)
Llamacorn White (pet)
Armored Llamacorn


Llamacorn Armored Top
Llamacorn Armored Skirt
Llamacorn Armored Shorts
Llamacorn Armored Boots
Llamacorn Armored Cape
Llamacorn Pair (pet)
Llamacorn Capes


Llamacorn Teal Cape
Llamacorn Green Cape
Llamacorn Magenta Cape
Llamacorn Orange Cape
Llamacorn Purple Cape
Llamacorn Red Cape
Llamacorn Yellow Cape
Yoricks Holiday


Yoricks Holiday Hat
Yoricks Holiday Gloves
Yoricks Holiday Bottoms

(gender specific pants/skirt)


Yoricks Holiday Coat
Yoricks Holiday Jacket
Yoricks Holiday Drum

(pet)
Wed Jan 01, 2020 5:43 pm
*looks around uneasily* This isn't going to be like the "glendor invasion". . .is it???? Aaaaaach....I am surrounded by llamacorms!!!!!


_________________

Wed Jan 01, 2020 7:37 pm
lol @ Sir Scarz

I hope not! But at least the llamacorn are nice and fluffy


Happy New Years everyone!
_________________

Wed Jan 01, 2020 8:28 pm
Those capes look really nice! All of the sets look amazing though
.

*secretly hopes for a Llamacorn invasion*
Wed Jan 01, 2020 9:29 pm
Phoenix Luna Blaze Cloud wrote:
*secretly hopes for a Llamacorn invasion*



Me too!



Thank you! These are gorgeous!


Edit: I'll be back to buy them tomorrow!

_________________

Thu Jan 02, 2020 4:54 am
RAINBOWS!

*unleashes her goat horde*

_________________


- Ignis Fatuus -


Court Jester? Bo?

Bo, official Zantarni nudist.



Rayven:

*gets hit in the face with some underwear* Wow Bo sure likes to get naked!



Riley:

Bo, the Goat Whisperer.

9520/10000
Thu Jan 02, 2020 3:40 pm
LOL!
I think you guys are enjoying the new llamacorn items!
I'm glad!
Thu Jan 02, 2020 5:30 pm
Rainbows!!!!!!!
And llamacorns!!!
*prepares for a llamacorn invasion*
Mon Jan 06, 2020 11:31 pm
looks greedily at the capes


_________________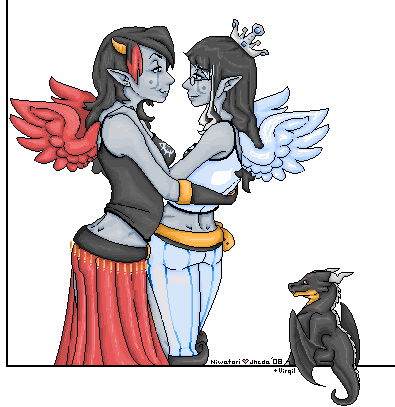 You cannot post new topics in this forum
You cannot reply to topics in this forum
You cannot edit your posts in this forum
You cannot delete your posts in this forum
You cannot vote in polls in this forum


Terms of Service